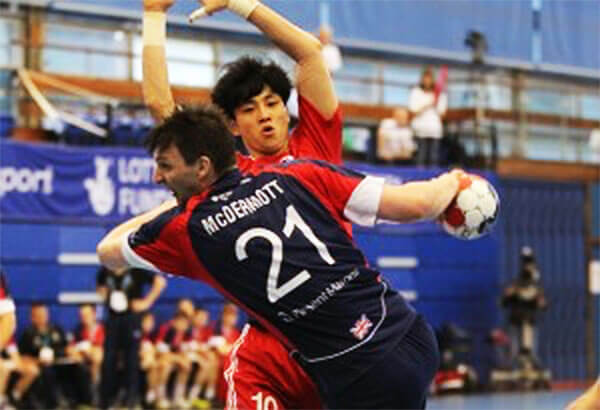 Following the training camp in January, GB men's Head Coach Ricardo Vasconcelos has shortened his squad to 23 players for the next training camp on 4-5 March in Nottingham.
The squad will eventually be cut-down to 14 players for the IHF Emerging Nations Championship next June in Bulgaria, which will be restricted to Under-24 players, with three over-age players allowed.
Commenting on his selection Vasconcelos said "I was very pleased with the hard work and intensity of the previous session and it is always tough to reduce your squad, but we can't lost sight of the fact that we will only be able to select 14 players for the final tournament hence the necessity to reduce the number of players and become more specific in our preparation".
Nicholas Satchwell Goalkeeper Neistin (Faroe Islands)
Alex Bradley Goalkeeper Warrington Wolves
Colin Reid Goalkeeper EK82
Dan Carden Goalkeeper Liverpool
Brian Negrete Lindsay Left Wing Alarcos Ciudad Real (Spain)
David Klaening Left Wing IK Nord (Sweden)
Mark Hawkins Left Wing West London Eagles
Oliver Bray (U21 rotation) Left Wing AGF Aarhus (Denmark)
Jamal Braithwaite Right Wing/Right Back NEM Hawkes
Stephen Clarke Right Wing Warrington Wolves
Ben Howard Right Wing Nottingham
Ben Tyler Left Back/Pivot Warrington Wolves
Stefan Whaley Left Back NEM Hawkes
Rafik Tahraoui Left Back Warrington Wolves
Sebastian Edgar Right Back/Right Wing Valence (France)
Steven Larsson Right Back/Playmaker Randers (Denmark)
Liam Welsby Playmaker Warrington Wolves
Ryan Goodwin Playmaker/Left Back NEM Hawkes
Toby Venables Playmaker Warrington Wolves
Ross Strachan Playmaker/Left Back Livingston
Jordan Price Pivot Nottingham
Chris McDermott Pivot Warrington Wolves
Ciaran Lapsley Pivot Glasgow HC