Women's U19 Head Coach Bill Baillie has called time on his incredible journey with British Handball. With just under 30 years of time with British Handball, Bill leaves an incredible legacy of success, passion and hard work as his memory, building handball into the success it has become today.
Bill started his involvement with the BHA as a coach back in 1985 when he was asked to take the senior men's team to a preparation tournament in Portugal, featuring GB, Portugal, Egypt and Morocco, aged 22 at the time. From that point on, he became assistant coach for the Men's World Championship (Group C) 1986, moving to head coach in 1988 for the Men's World Championship (Group C).
Following this, BHA withdrew from all major tournaments until the IHF Trophy in 1999 where Bill led the team to their first medal (Bronze) in Cyprus. Bill states "This was one of my personal greatest achievements with the BHA."
11 years out of international competition until the IHF Trophy, was a hard decision for the BHA meaning momentum was lost, but the organisation was re-established as the performance arm of handball in the UK, and led to Bill's greatest experience to date, "My greatest ever experience, to finally have the funds to prepare and compete at a home Olympic games in 2012. From the Sporting Giants campaign to being an assistant coach at the highest level, was an amazing and crazy journey."
Bill goes on to discuss one of his more unusual times in the sport, "The strangest experience was during a Commonwealth Tournament in Edinburgh with India, Pakistan and Uganda. Although we won the event, Uganda never made it with visa problems, and Pakistan left a player at a service station in England on their way to Edinburgh, how I miss those days!!!'
On Bill's reflections, he says, "Certainly, I have been blessed to coach some of the finest young women and greatest players in the GB handball history as a direct result of these unique opportunities, For me, there is no greater joy than being part of our players' respective endeavours through handball, and more importantly, their lives off the court."

Bill's final quote: "People will forget what you said, people will forget what you did, but people will never forget how you made them feel."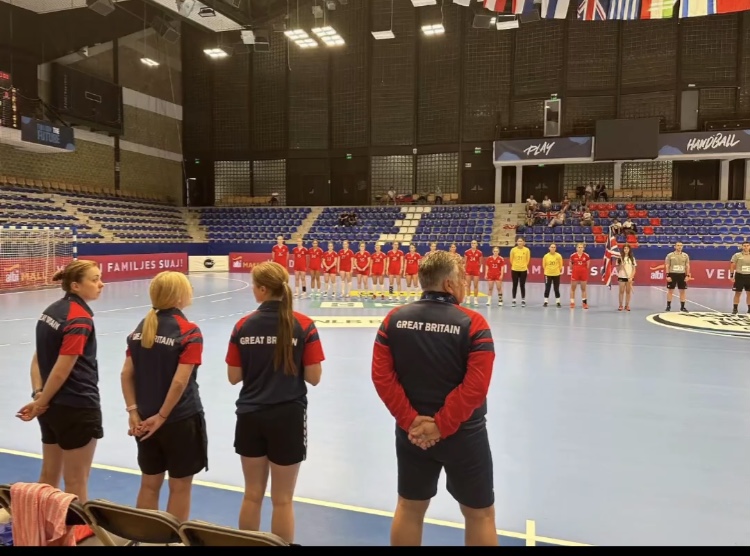 Mark Hawkins (women's head coach); "Bill has been integral to so much in British Handball since I started as a player, and as a coach he has done so much positive work over the years with the men's team and more recently in the women's youth teams. He has had a massive input to the progress of the women's programme in where it stands today. People with this passion and dedication are hard to come by, and he will be a massive loss to the national team set up."
Ricard Vasconcelos (men's head coach); "I would like to thank Bill for all his professionalism, hard work, and dedication to the BHA. For me personally, it was extremely helpful to interact and learn with Bill over the time we spent together. A huge part of the progress we are witnessing on both male and female teams has Bill's influence, and it is a real shame to see him leaving the role. It is a personal decision however, and we have to respect and accept this. I am sure Bill will still be very active in the handball world within his club context, and I am looking forward to seeing what the future holds."
Matt Durber (women's U17 coach); "I have a great respect for the work Bill has done over the last few years working within the women's youth squads, showing great dedication to the role. Bill has always been generous with his time to pass on advice and experience, and hopefully we can continue to build on the work he has done to increase the success of the programme on the international stage."
Board member, Conor Marlin says "On behalf of the BHA we would like to thank Bill for his years of service to the BHA. He has had a big impact on many players over the years and has played an important role in where we are today!"
Bill would like to thank the following:
Mick Hegarty: for believing in my potential.
Paul Bray: for having the confidence to give me my first opportunity.
Alan Lund: for giving me the confidence to develop.
Dragan Djukic: for shaping my handball philosophy and understanding of top level handball.
Diane Williams (my wife and former GB player) for supporting/putting up with me over the last 23 years.
Finally thanks to all the assistants, managers and physio's I have had over this time and more importantly the hundreds of young players I had the pleasure to work with.