Tuesday 22 June 2021: London, UK – The British Handball Association is proud to announce today a three-year partnership with hummel, one of the oldest, most dedicated team sport brands in the business.

Founded in 1923, Danish sportswear brand hummel has deep roots in handball and is iconic within the sport, not least as the official technical sponsor and clothing supplier for both the International Handball Federation (IHF) and European Handball Federation (EHF) as well as involvement with many handball teams around the world.
Now British Handball joins that illustrious list with hummel becoming the official technical supplier providing all match kit and coach kit, as well as discounted player training wear, via Middlesex-based teamwear retailer KitBoss.
The iconic hummel chevron design will now take pride of place across all six Great Britain teams – men's and women's senior, junior and youth – at all future EHF European Championships, IHF Trophy events, European and World Championship qualifiers and other events. The new kit will be lunched later this summer.
Paul Bray, Chair of British Handball said:
"We are delighted to be entering into a partnership with such an iconic brand as hummel, which has a longstanding association with handball across the globe. We are very grateful for their support at a time when we are working hard to develop our squads and look forward to a fruitful association."
James Golden, Head of Teamsport hummel UK & Ireland said:
"We are thrilled to partner with our retailer KitBoss to become the official technical supplier of British Handball for the next three years. We feel this deal is a perfect fit for hummel who have such a deep-rooted history in handball."
Handball joins a number of different sports in Britain to feature kits with the classic hummel chevron design, in football with clubs Everton and Southampton amongst others as well as in both rugby union and rugby league with Wasps and Wigan Warriors.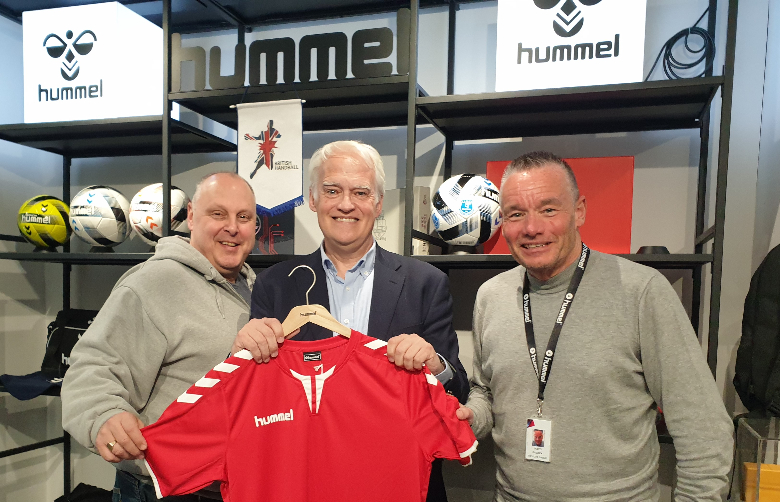 (Photo: left to right - Tony Tropp, KitBoss; Paul Bray, British Handball Chairman; James Golden, hummel Head of Teamsport, UK & Ireland)
About hummel
Founded in 1923, hummel is a Danish sportswear brand with deep roots in handball. hummel is one of the oldest, most dedicated team sport brands in the business and our iconic chevrons have always worked as a symbol of how we like to do things a little differently – always with a twist and (a whole lot of) character. Values that apply to the company's numerous sponsorships around the world.
For us, sport is more than a physical activity. It's a universal language with the strength to eliminate differences in politics, culture, religion and beliefs. Throughout the years, we have supported several projects, teams, sports clubs and prominent figures focusing on changing the world through sport; always with the hope to build bridges and help pave the way for a better tomorrow.
hummel designs, produces and markets clothes and equipment for various sports, as well as sneakers and leisure wear for both adults and children. With the product categories team sport, footwear, kids, sport lifestyle and selected premium co-labs, hummel launches new styles several times a year in a consistent mix of retro and contemporary trends. hummel is known as the original handball brand and offers some of the best handball shoes and handball apparel on the market.
Twitter: @hummel1923
Instagram: @hummelsport
Facebook: @hummel.uk
Web: hummel.co.uk
Contact: info@hummel.uk