GB Under-18 coach Ciaran Williams was full of praise for his players who finished 11th at the EHF M18 Championship in Austria last weekend after a 28-10 win over Ireland.

This victory completed a tournament where GB won two and lost five matches in total. They had earlier finished runners-up in group A, but then lost their cross-over match for places 9-12 vs Kosovo 23-31.

Commenting on the victory over Ireland , Williams said "We are happy to finish with a victory, but we are disappointed that we were not playing for a higher place. We know that we have to improve for the next tournament, so now we have to go back and working harder, so that we can close the gap on teams like Montenegro, Kosovo or Bulgaria."

"Other nations like Austria, the Czech Republic, the Netherlands or Turkey are clearly on another level. These games really did show the players what it will take to compete at this level."

"We face the challenge that the GB programmes are completely player-funded, so we are limited in the amount of preparation we can do compared to other teams. Despite this, the players should be commended for their attitude and commitment. Even in the tough games, they never let go and fought to the end."

The team was not helped by the injury to experienced goalkeeper Jarred Cartlidge before the competition even started, and the opening day's injury to right wing Miguel Vega-Harwood, both missed the rest of the tournament.

"We showed that we were technically competitive with most teams, but simply lacked the strength and match fitness to maintain this level for 60 minutes. In some cases we lost matches because of a poor 15-20 minute spell".

The team have been grateful for support from sponsors the University of Salford and Freight RSL.

The team will be in action again soon when they travel to Portugal for a training camp in September, they will then take part in the IHF Trophy in Kosovo at the end of October.
Group stage results
10 August: GB vs Montenegro 20-25
12 August: GB vs Czech Republic 12-33
13 August: GB vs Ukraine 17-41
15 August: GB vs Turkey 15-40
16 August: GB vs Ireland 25-13
Cross matches 9-12
18 August: GB-Kosovo 23-31
19 August: GB-Ireland 28-10

Squad
Hamish Bottomley – Kelvinside (goalkeeper)
Jarred Cartlidge – NEM Hawks (goalkeeper)
Jack Booth – Warrington Wolves (goalkeeper)
Ed Irving - Warrington Wolves (left wing)
Sebastian Hesk – Warrington Wolves (right back)
Migual Vega-Harwood - Colegio Vetusta: Spain (right wing)
Rob Damianou - Carshalton Titans (right wing)
Craig Yule - Tryst 77 (right wing)
Charlie Fletcher – NEM Hawks (pivot)
Josh McDaid NEM Hawks (playmaker)
Joshua Plumridge - Nottingham (playmaker)
Derry Asante - Carshalton Titans (pivot)
Magnus Stuwe-Hall - Havørn AI: Norway (pivot)
Owen Sartain - Olympia London (pivot)
Graeme Goldie - Tryst 77 (left back)
Elliott Buckle – Oly Cats (right back)
Sean Bryon - Livingston (right back)
Coach: Ciaran Williams
Manager: Andy Clark
Physio: Krzysztof Szulc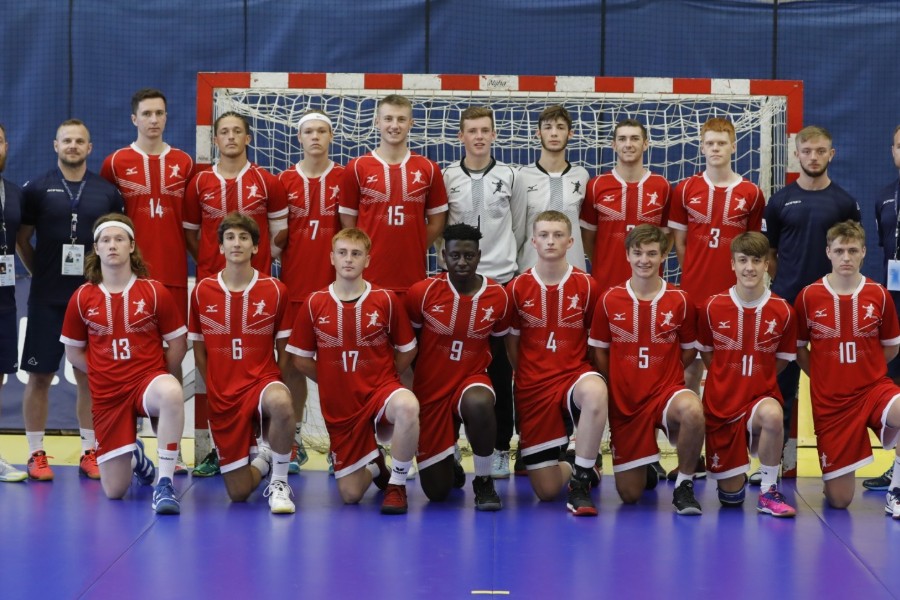 Read more about group games
For all results and standings, visit the EHF website