GB U20 coach Mark Hawkins reflects on the M20 EHF Championship in FYR Macedonia
Last week, the GB Men's Under 20 team went out to Skopje, the capital of FYR Macedonia, to compete in the elite M20 EHF Championship and ended their tournament with a 36:22 (16:11) loss to Finland in the 9-11 Cross Match round which had followed four group games.
"It was a frustrating way to finish," said GB Men's U20 Head Coach Mark Hawkins. "We started well in the first 20 minutes and felt it was possible to keep the game close, but unfortunately we had two very poor spells either side of half-time and this cost us."
For the young British team, playing their four group games in just five days, and a total of five games in nine days was a crucial development as Great Britain becomes an established nation on the European competition stage.
"It is a tough step up," admitted Hawkins about the rigours of playing so many games in a short period of time. "However, I think we are now seeing improvements year-on-year as, previously, this type of schedule would have been very difficult to manage, but I feel now our players are conditioning themselves better.
"For example, many who have spent a year in Denmark at Idraetshojskolen i Aarhus, are becoming more accustomed to the physical rigours of this level and are able to perform more consistently over a tournament like this," he continued.
"It takes a bit of time to become accustomed with the level and the Ukraine match showed they had the ability to compete at that level. The players will have learned a lot from the matches and the level of competition - it is a leap in class for them, but hopefully they can take these lessons back into their daily environments to continue their development."
Ahead of the tournament, Hawkins had taken a 17-man squad to Portugal for a training camp and pre-M20 EHF Championship tournament and continues to be impressed with the group; full of praise for the continued, on-going commitment of the collective.
"It's a great group that always keeps fighting," said Hawkins, who played in the London 2012 Olympics for Great Britain. "The core of the group has been together for nearly three years now, so they have been through a lot.
"They worked incredibly hard just to be there as they are all 100% self-funded. With the nature of our funding situation, I don't think there is a group of players that does more to be ready by the opening buzzer. It's incredibly tough on the players and parents/guardians who burden these costs, but their commitment can never be questioned, it's quite incredible.
"There has always been a great spirit," continued Hawkins. "We have a great mix of Scottish and English players and it's really exciting seeing year-on-year to see the work of the home nations and the players that are developing which I believe bodes very well for the future of handball in Great Britain."
For Hawkins, it is not only the players who continue their development but himself as a coach too and the Macedonian capital was a perfect environment for learning both on and off the court for all involved.
"Skopje is a handball city," said the 32-year-old. "Of course, Vardar won the Men's Champions League previously and handball is a major sport there. It was a fantastic environment to be in and great for our players to play in the arenas there – we all really got an appreciation of what a big handball city is like.
"It was a big experience for me to learn about the other nations, how they play and how they have developed since previous competitions. It's a huge test and big challenge going against bigger nations, competing against different styles of play and preparing the team for new opponents in a short space of time and I learnt a massive amount as a coach."
With the Men's U18 GB team travelling to Tulln, Austria, for the Men's U18 EHF Championship, starting next Friday (10 August) where they will face Montenegro, Czech Republic, Ukraine, Turkey and Ireland, what is next for the U20 team?
"The U20 cohort will now begin its transition into the senior team," explained Hawkins. "They will have another U21 competition coming up later this year and then the target for them will be to progress into the senior squad."
Preliminary Round
20 July: FYR Macedonia vs GB 32:15 (15:5)
21 July: GB vs Switzerland 11:33 (3:18)
23 July: Ukraine vs GB 20:16 (8:6)
24 July: Italy vs GB 31:16 (13:5)
Cross Matches 9-11
28 July: Finland vs GB 36:22 (16:11)

GB Men's U20 Squad: FYR Macedonia 2018
Adam Latter - Carshalton Titans
Caleb Mathews - Brighton
Carl Barnes - NEM Hawks
Chris White - Livingston
Craig McClelland - AGF Aarhus (Denmark)
Elliot Thompson - Carshalton Titans
Harry Morley - NEM Hawks
Jack Lees - EK 82
Josh Braker - Cambridge
Eoin Neal (Oly Cats)
Charlie Fletcher (NEM Hawks)
Samuel Paulin - Pay d'Aix (France)
Jarred Cartlidge - NEM Hawks
Lewis Gannon - Livingston
Nate Green - Warrington Wolves
Rob Paripovic - Oly Cats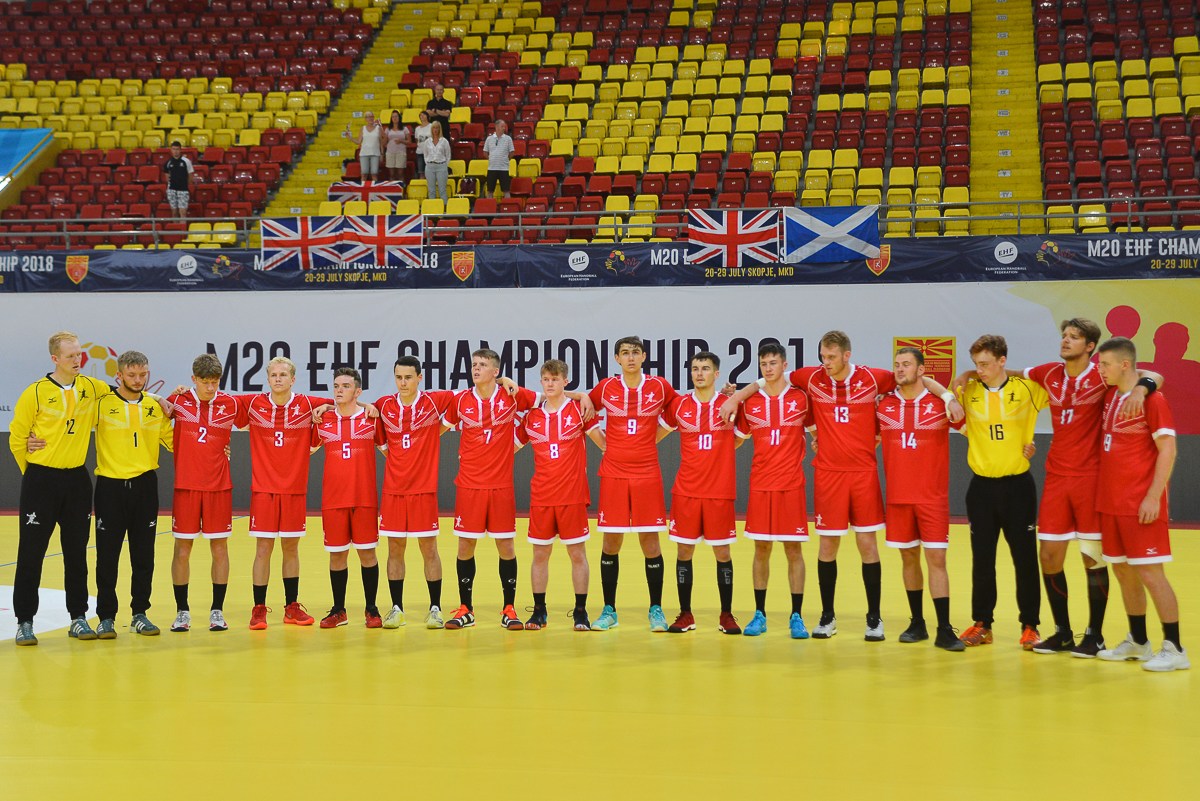 Read more about the group games
For all results and standings, visit the EHF website HERE.

Photos: Filip Viranovski