Valuable experience gained as GB succumb to Estonia
The day after their emotional return to a handball court following two years without a match, Great Britain's men's side faced their second opponents in less than 24 hours in the 2023 IHF Men's World Championship – Qualification Europe group in Finland.
After their loss against Georgia on Friday night (5 November), GB Men's Senior Head Coach Ricardo Vasconcelos and his side knew defeat against Estonia on Saturday evening (6 November) would end their chances of qualifying for Sweden/Poland 2023.
However, with the tournament in Finland identified as a key step on the path towards the 2026 EHF EURO qualifiers and IHF Men's Emerging Nations Championship, the young Brits gained further valuable experience, going toe-to-toe with their opponents for nearly all the second half, eventually losing 22:34.
2023 IHF Men's World Championship – Qualification Europe
Estonia vs Great Britain 34:22 (20:10)
Energia Areena, Vantaa, Finland
Further evidence of the new, younger generation coming through for British Handball was on show on court again in Finland on Saturday as GB Men's Head Coach Ricardo Vasconcelos handed 20-year-old winger Jeremy Hirel his senior debut, adding to the five players who registered the landmark achievement on Friday night.
Hirel, who plays his club handball for Le Chesnay and has represented Great Britain at Under 20 level, took the place of fellow debutant and 20-year-old Craig Yule in the matchday squad as coach Vasconcelos continued his commitment to expose the new generation of talent to senior international handball competition.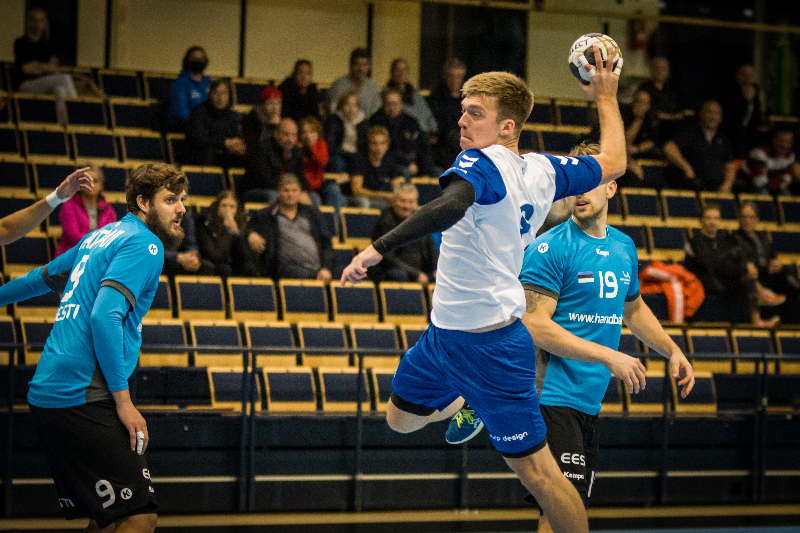 Estonia had a British link too through their Swedish coach and double Olympic Games silver medal winner as a player, Tomas Sivertsson. The former Sweden women's national team coach worked with the Chester-based Deva Handball Club back in 2016 as part of a programme for the International Olympic Committee.
But early opening misses in front of goal by GB handed the opportunity to Sivertsson and Estonia to take the lead despite GB right back Sebastien Edgar doing his best to keep the scoring close, clocking up GB's first four strikes (4:6, 10th minute).
Estonia had other ideas though, moving to a five-goal lead just five minutes later (5:10, 15th minute) and then outscoring Vasconcelos' team 10:5 in the last 10 minutes of the first half to go in 20:10 ahead.
A large part of Estonia's defensive superiority was down to goalkeeper Rasmus Ots, who ended on 10 saves, but Britain also had their own defensive wall in shot-stopper Craig McClelland (13 saves/34 shots, 38%).
Despite the deficit at the break, Great Britain again showed their fighting spirit in the second half, staying equal in the second period (11:11) until just over five minutes to go, including a 3:0 scoring run, but Estonia did enough to keep their healthy lead.
"We lacked the consistency, the quality," said Vasconcelos after the result. "At moments we play well, but then there's a dip and we're not reacting well to those moments.
"The second half we were better, our game was more fluid, we gave more options to our players. Once again, it's a step in the right direction and one more step in the process we've started."
"We showed we can fight back and we proved our worth in the second half," said Josh Plumridge, who has moved up to the senior squad from the U20s and was quick to praise the team spirit evident in Finland.
"We always back each other and it's great to be here with the team. It's always great to be on a court with GB, it's always special. I've had people looking after me and the senior players have done a great job of taking everyone under their wing."
Great Britain conclude their tournament against hosts Finland on Sunday (3pm Finland/1pm GB time).
Match squad: Sebastien Edgar (8 goals), Francisco Pereira (6), Josh Plumridge (4), Tomeu Lopez-Nieto Veitch (2), Ryan Goodwin (1), Ran Yonish (1), Will Moore, Ollie Tyler, Ben Tyler, Tiago Babb, Benjamin Howard, Christopher White, Jeremy Hirel, David Klaening, Owen Insou (GK), Craig McClelland (GK)
Replacements: Alex Bradley, Craig James Yule
Coaching/Support Staff: Ricardo Vasconcelos, Luke Jennings, Jamie Hodgson, Kevin Matthews, Andrew McSteen, Marcio Menino