It has been a whirlwind past three months for right wing Francisco Pereira.

After making his debut for Great Britain at the 2023 IHF Men's World Championship – Qualification Europe tournament in Finland last November, Pereira went on to score 11 goals in Helsinki.

Then, less than 100 days later, on 8 February, the Füchse Berlin player made his first team debut in the EHF European League – Men, in Switzerland for a clash against Pfadi Winterthur.

This represented one of the highest levels a player can play in European club handball, but for Pereira, who usually plays for the Berlin second, developmental team, it all came about in unusual circumstances.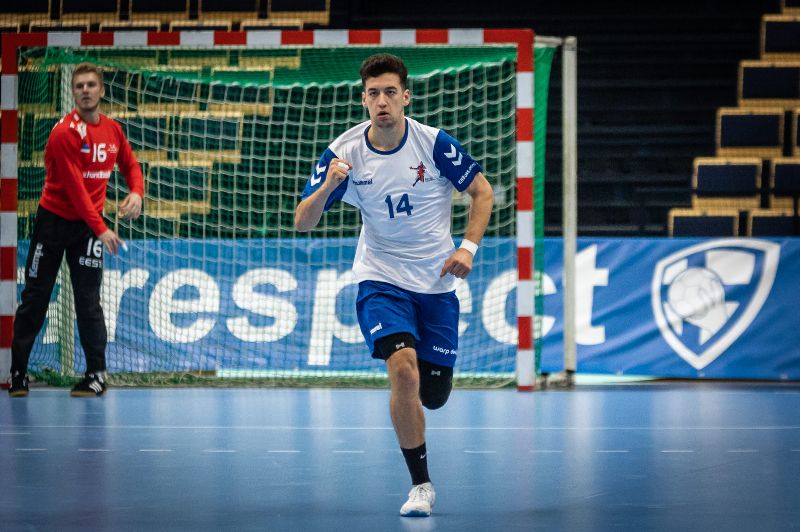 Due to a packed schedule and complications arising from COVID, Berlin head coach Jaron Siewert needed reinforcements for the away trip to on Tuesday 8 January.

"I found out after my second team game on Saturday evening that I was going to be travelling with the team to Switzerland," explained Pereira to BritishHandball.com.
"My coach told me that the head coach from the first team wanted me to train with them the next day (Sunday) and that I would be travelling with the team to Switzerland to play.
"Max (Maximilian Rinderle, Siewert's assistant coach) called me and then he put the coach on. He just told me that their right winger, Valter (Chrintz), was sick and that he was calling me up to be part of the team, to train and go and play. He told me not to stress too much and to just enjoy this opportunity.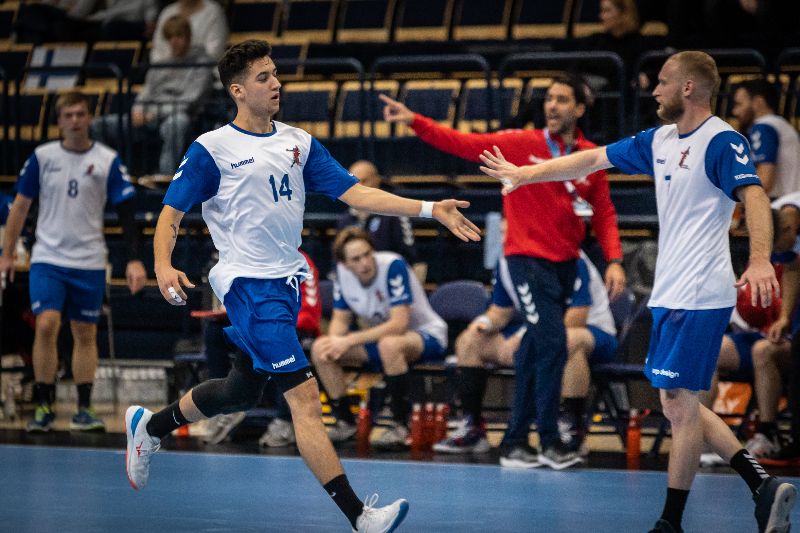 "It was my first time being called up for the squad of 16," added Pereira. "When I found out, I was very happy and excited to not only go and train with the first team, but to travel with them. It was a very, very exciting moment for me."

It was not just any normal team for the 22-year-old to spend all that time with though – it was a team featuring big-name and legendary players like Paul Drux, Marko Kopljar, Viran Morras and Hans Lindberg, amongst others.
"Just the fact of being next to players like these means a lot to me," explained the Portugal-born Pereira. "It's always been a dream of mine to play at such a high level and to be next to these players like Hans, Marko, Viran and Paul is crazy, it's such an amazing experience.
"But they are all very friendly and we spoke about quite a lot of things," he added. "With some of the players I actually connected quite a lot with them because they had the same kind of experience as me when they were younger.
"It's unbelievable how things can change and just being next to these handball legends – let's call them that – is very exciting and good for me. It has helped me quite a lot."
Even the circumstances Pereira arrived on court in Switzerland were not usual.
A technical error from Berlin saw them down two players, with their only available goalkeeper (Dejan Milosavljev) given a two-minute suspension and Hans Lindberg – experienced between the posts thanks to a brief spell in beach handball – took over.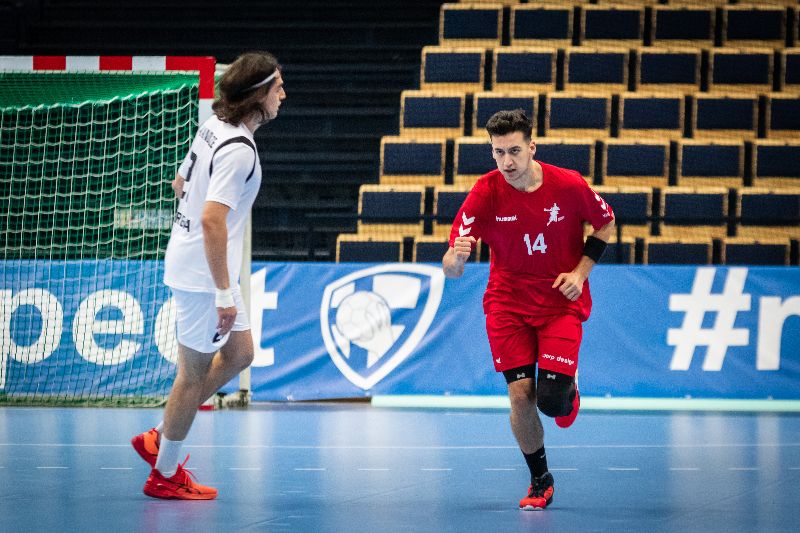 This left Berlin short on the right wing in attack so with 48:19 on the clock, Pereira walked on court to go into the statistical archives.

Shortly after, and with the suspensions served, he was off though and watched the team seal an important 30:27 victory.
"I did get to play, during that two-minute period, but just the fact that I was there with the team meant a lot for me," said Pereira. "I was very excited to be part of the team on court, but just the fact that I got the chance and the opportunity to go there, to travel with the team and experience all of it was unbelievable – I was super-excited and over the moon.
"When Hans had to go in goal Jaron looked at me and said 'Francisco get ready'. In this moment whilst I was warming up, I was full of energy and so excited to go inside the court."
His brief taste of first team action did not end there though, with a second, successive squad call-up coming two days later, for the LiquiMoly Bundesliga match, against Rhein-Neckar Lowen, which resulted in another win for the Foxes of Berlin and proved further evidence of the continued development of the right winger since he moved to the German capital last year.
"This season has been going very well," he said. "In the first months after I joined everything was new to me: it was a new culture, a new language and a new team. You know, it was such a big change, but I was prepared and my mindset was ready for it.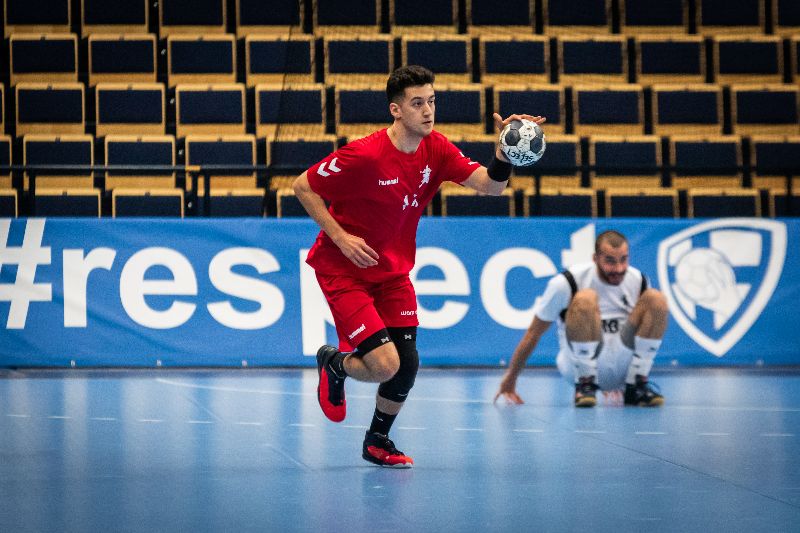 "I take in everything very carefully and listen to it very cautiously because I want to learn. Little things from when we are training or when we have feedback from the coaches. I'm here to learn, to improve and become a better handball player.

"I've improved a lot since I've came here," he explained. "We train 8-10 times a week with a game at the weekend. It's a lot of training, a lot of effort and a lot of hard work that we have to pull in every day, every week to reach the highest league.
"Being called up to be with the first team helps me a lot in terms of motivation – it would motivate anyone - but I'm looking very forward to see how my career is going to go from now. I am very motivated and very happy to be here.
"For the rest of 2022 I just want to keep training, keep improving and keep taking my chances," he continued. "My personal targets has always been the same: to keep focus in training, strive to improve myself and always have two feet on the floor.
"I don't like to think too much ahead because I like to focus in the present but with hard work and all the commitments I put in every day, good things will come just like it happened with the first team. Let's see what happens in the next few months. I'm very excited for the future."
Congratulations from everyone at British Handball for your achievement Francisco.

Fuchse Berlin Photos: www.deuring-photography.com