It was a long time coming, but Great Britain finally returned to competitive handball action on Friday (5 November) when the senior men's team faced Georgia in their opening match of the four-team 2023 IHF Men's World Championship – Qualification Europe group in Finland.
After just two days of preparation in Vantaa – also their first training camp for two years – GB made their first appearance in an IHF World Championship qualification phase in almost a decade.
Standing in their way were a tough Georgian side and after an early GB lead, Georgia slowly took control, but an improved second half – with Ricardo Vasconcelos' men outscoring their opponents 17:15 – meant there was lots to be positive about.
2023 IHF Men's World Championship – Qualification Europe
Georgia vs Great Britain 32:26 (17:9)
Energia Areena, Vantaa, Finland
For everyone connected with British Handball it was an emotional moment to hear 'God Save The Queen' played in an international handball arena, with the GB players singing passionately in their new hummel kit, preparing for the tough challenge of the experienced Georgians – all made possible with the support of UK Sport funding.
GB Men's Head Coach Ricardo Vasconcelos welcomed five debutants to his squad including 20-year-old left wing Craig Yule, who plays his club handball for Academico de Viseu in Portugal, 21-year-old right back/wing Francisco Pereira (Fuchse Berlin – Germany), London-born 19-year-old backcourt player Tiago Babb (Académico do Porto/Boavista – Portugal), Ran Yonish (24, Bnei Herzelia – Israel) and Joshua Plumridge – the 20-year-old who came up through the England Handball Association (EHA) Talent Pathway and who has represented GB now at all levels.
Goalkeeper Alex Bradley and left wing/playmaker Jeremy Hirel sat this one out with Vasconcelos having to cut his travelling squad from 18 to 16 for the match, while assistant coach Joao Castro and players Josh da Silva, Sebastian Vellenoweth, Brian Lindsay, Darren Lindsay and Samuel Paulin did not make the trip.
It was a dream start for GB though, with the most experienced Brit on court – right wing/back Sebastien Edgar – opening the scoring early on, swiftly followed by left wing David Klaening doubling the lead (2:0, 2nd minute).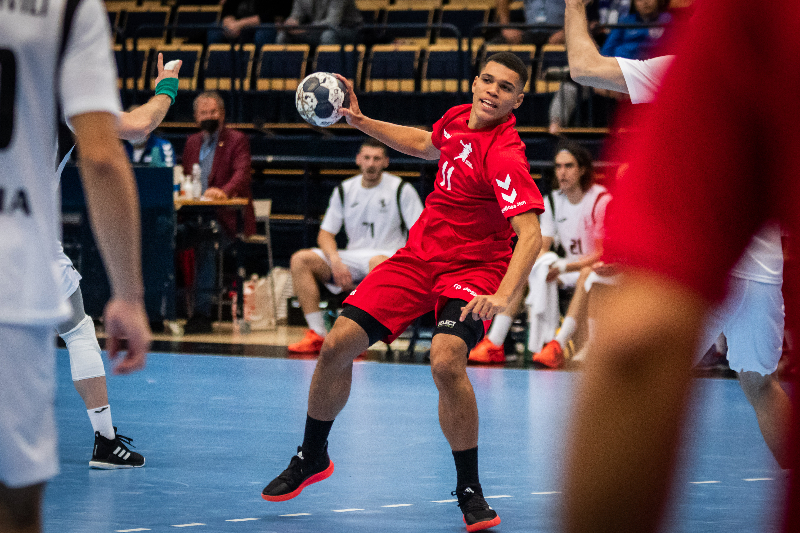 Britain could have even extended their lead, missing a pair of opportunities, before Georgia got off the mark in the fourth minute and they went on a 6:0 run five minutes later (9th-15th min) to turn a 4:5 deficit into a 10:6 lead, a distance that Britain would, ultimately, be unable to close.
Vasconcelos had called his first time out in the middle of the run (14th min) but it did little to stop the Georgian lead increasing as Britain found it hard to get past their defence and goalkeeper.
At eight goals down at the break (9:17), it was looking like a tough 30 minutes to come for GB and it was initially as Georgia opened up their first double-digit gap (17:27) with just under 15 minutes remaining (46th) but Vasconcelos' side showed a fighting spirit, ending the game on a 5:2 run, to win the half 17:15. Klaening ended the game with seven goals from seven shots to finish as GB's top scorer.
"It's nice scoring a lot of goals, but we have a few things to work on," said Klaening. "The second half was really good, but the first half we were a bit nervous and that was a big part of it. Last time I played with GB was 2017 in Bulgaria so it's really nice to be playing and representing again."
"I have mixed feelings," said Vasconcelos after the game. "We started the game really well with intensity, the boys were playing simple but then we started to make things complicated and Georgia reacted quite well.
"We played more individually than I would like, but this is the context; the fact that we haven't been together and played for so long makes things a bit more complicated. Defensively, I'm very happy with the way the boys behaved. Yes, we've made mistakes, but it's a great place to be to start a solid defence for the future.
"Offensively, it was not as good as I wanted it to be, but it was as good as it can be with the time of preparation we've got."
Coach Vasconcelos also took time out to praise the new players in the squad and the fight the whole team showed as the match went on.
"I would like to say, more than anything, that I'm very proud of the boys who have started their pathway with GB," he said. "I'm very proud to be a coach that afforded them that opportunity because they have very good potential to add to our squad in the future.
"I told the squad that they should feel proud of their reaction, of the character they showed in the second half. We fought back and that's what we can promise to everyone who's watching: we might lack in preparation but we weren't lacking in character or the willingness to fight for Great Britain."
Great Britain now face Estonia on Saturday (7pm Finland/5pm GB time) and is well aware of the challenge they post.
"It's an even bigger mountain to climb," he said. "But it's a great opportunity for us to do development and challenge ourselves. We will work on the mistakes we've made (against Georgia) and try to improve them."
Match squad: David Klaening (7 goals), Ran Yonish (6), Christopher White (3), Sebastien Edgar (3), Ryan Goodwin (2), Joshua Max Plumridge (2), Tiago Pinheiro Babb (2), Craig James Yule (1), Benjamin Howard (1), Ben Tyler (1), Tomeu Lopez-Nieto Veitch, Francisco Pereira, Will Moore, Oliver Tyler, Owen Insou (GK), Craig McClelland (GK)
Replacements: Alex Bradley, Jeremy Hirel
Coaching/Support Staff: Ricardo Vasconcelos, Luke Jennings, Jamie Hodgson, Kevin Matthews, Andrew McSteen, Marcio Menino